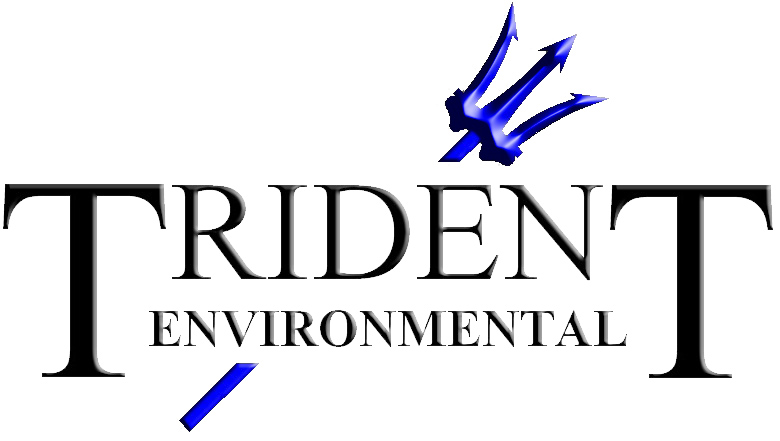 Statement of Qualifications
For
Environmental Services
Trident Environmental provides products and services to the environmental and energy industry. For the environmental market, Trident develops specific strategies for assessing and resolving the major environmental and engineering challenges of ownership and management of commercial, industrial, and government facilities. We offer practical solutions that carefully balance site conditions, available technologies, regulatory requirements, and economic realities.
Trident's areas of environmental expertise include:
Remedial Engineering

Site Characterization

Soil and Groundwater Contamination Assessment and Remediation

Hazardous Waste Management

Industrial Environmental Compliance

Environmental Compliance Assessments

Underground Storage Tank (UST) Management

Environmental Litigation Support

Regulatory Compliance and Permitting

Property Transfer Audits

Solid Waste Management
Trident's clients include regional and national leaders in industry, finance, real estate, insurance, and banking. Cities, states, Federal government agencies, and the military have also called on Trident associates to help with their environmental problems. A majority of our revenue is generated by existing clients or through referrals, confirming our reputation for excellence in the industry. The Midland, Texas office was opened in 1994 as a satellite office to Geoscience Consultants, Ltd. Its purpose was to provide a local responsive staff specifically experienced in the environmental and regulatory concerns of the petroleum industry. Projects managed by Trident of particular interest to the local industry include:
Environmental compliance assessments of industrial manufacturing plants, petroleum processing sites, and waste treatment and disposal facilities





Characterization of property transfer liabilities for oil and gas fields, natural gas gathering systems, crude oil pipelines, gas plants, and refineries





Groundwater contamination plume delineation assessments and remedial costs determination for acquisition negotiations and regulatory compliance





Performance of risk-based corrective action for regulatory closure by natural attenuation





Installation and operation of soil and groundwater remediation systems



Facility decommissioning, including oil well plugging and abandonment, removal of tanks and equipment, and waste disposal
To provide this diverse offering of quality technical services, Trident is staffed by long-time Permian Basin residents who are familiar with all aspects of oil & gas operations, the associated environmental problems, and the local economic concerns.

The expertise of our environmental staff enables us to present our clients with solutions that meet their environmental, operational, financial, and regulatory concerns.
In addition to the potential liability associated with the environmental impact of activities conducted on its own property, a corporate entity must also be concerned with the potential liability associated with activities conducted at facilities processing, storing, treating, or disposing of any waste or co-products/byproducts. Programs such as those implemented under the Resource Conservation and Recovery Act (RCRA) and the Comprehensive Environmental Response, Compensation, and Liability Act (CERCLA) are designed to ensure waste is responsibly managed from the point of generation to the final disposition (i.e., "cradle to grave") and to identify any potentially responsible parties (PRPs) where environmental impacts have occurred because of waste and hazardous chemical management practices. As a result, it has become prudent for corporate entities to conduct environmental compliance assessments of both their own properties and the properties of others where waste and co-product/by-product materials are managed. Environmental compliance assessments are intended to identify and correct noncompliance issues that may exist at a facility and to ensure continued compliance with ever-changing environmental regulations.
Trident is experienced in conducting environmental compliance assessments at numerous types of facilities, including oil and gas, manufacturing, mining, waste disposal, and co-product/byproduct processing facilities. Trident's environmental compliance assessment teams are made up of individuals with combined experience in the various environmental media, and may include chemical, civil, and environmental engineers. Trident ensures all environmental compliance issues are addressed by accessing team members and associates that possess unique technical strengths and have outstanding interview and data gathering skills. Trident assessments teams not only conduct a thorough site compliance assessment to determine regulatory compliance, but also evaluate management organization controls and operational procedures for support of continued compliance. Trident's typical environmental compliance assessment includes the following three steps:
Pre-Visit Planning and Data Gathering

: Prior to conducting the hands-on site assessment, Trident gathers background information on the facility, its operations and layout, and staff members.

This information enables the assessment team to collect the necessary data for the assessment with a minimal amount of facility disruption.

It

also familiarizes team members with the facility, and allows them to research any site-specific compliance issues in advance.
Extensive Site Inspection

: The next step of the environmental compliance assessment is an extensive site inspection to accurately assess the facility for compliance.

The site visit begins with a meeting between facility personnel and the assessment team.

At this meeting, the assessment team addresses questions facility personnel may have regarding the assessment.
The remainder of the assessment visit involves document review, facility personnel interviews, and hands-on site inspection. Throughout the inspection, the checklists circulated to facility personnel in advance are used to ensure all of the necessary information has been obtained. The site inspection includes all storage and process areas and fence lines or property line boundaries, particularly if they coincide with discharge outfalls and abandoned disposal areas. Any areas, operations, or processes of concern to team members are noted and photographed to establish location and condition.
Facility Compliance Report

: Once the site visit is complete and all information is evaluated, Trident submits a written facility compliance report that contains assessment findings and short- and long-term recommendations.

For particularly sensitive issues, an oral facility compliance report can be given to in-house counsel.
In the past, property owners occasionally found that when they purchased a piece of property, the property was not the only thing they purchased. Shortly after the transaction was complete, the new property owner discovered the property contained environmental hazards that could cost thousands of dollars in fines and remediation fees.
Federal and state environmental regulations place the burden on lenders and potential owners of real estate to make a duly diligent effort to research the environmental hazards on the property they acquire title to, foreclose on, maintain a security in, or assist in managing. Property transfer audits evaluate the potential environmental hazards that may exist on a property due to past use with respect to geology and hydrology, nearby properties and structures, and the property itself. They also help establish "innocent landowner" status. By establishing this, the potential property owner's liability for environmental problems is limited. Trident Environmental has the technical expertise to conduct all three phases of an ESA.
Phase I ESA: A Phase I ESA is a qualitative assessment of a property. For a Phase I ESA, activities typically include:
Historical review of the use and improvements made to the property



Investigation of property and neighboring properties with regard to the Environmental Protection Agency (EPA) National Priority List (NPL) or Comprehensive Environmental Response, Compensation, and Liability Information System (CERCLIS) list and similar state lists



Inspection of the property with specific attention paid to hazardous materials, USTs, friable asbestos, polychlorinated biphenyl (PCB) sources, structural problems, and surface drainage
Upon completion of the Phase I Environmental Site Assessment, Trident will submit a written report to the client summarizing the findings.
Phase II ESA: If observations made and evidence developed during the Phase I ESA cannot support innocent landowner status, a Phase II ESA is conducted. A Phase II ESA confirms or refutes preliminary findings of potential environmental liabilities. It also quantifies the extent and significance of problems associated with the site. In addition to the tasks performed during the Phase I ESA, a Trident Phase II ESA may include:
Testing USTs for content and integrity



Conducting a soil-vapor analysis to identify the potential for petroleum hydrocarbons and volatile organic compounds



Collection and analysis of soil, groundwater, and surface water samples as necessary



Review of regional and local geology to determine the pathways chemicals would follow in the event of a spill or leak
Upon completion of the site inspection, Trident will submit a written report, documenting observations made during sampling, sampling locations, methodology, analytical methods and results, and, if necessary, any recommendations for additional investigation work.

Phase III ESA: A Phase III ESA is a more detailed investigation that further quantifies the vertical and horizontal extent of hazardous waste compounds. Trident's Phase III ESAs consist of all the activities performed during the Phase I and II audits, as well as sampling and analysis of surface soil, materials in sumps and drains, subsurface soil obtained from monitoring well installations, soil vapor, transformers containing PCBs, and building materials containing asbestos or lead-based paint.

Also during a Phase III audit, Trident provides an estimate of the engineering costs for site remediation. All observations and findings of the Phase III ESA are summarized and included in a report submitted by Trident.

When most companies learn of a contaminant release, they immediately consider the threats the release poses to human health and the environment. While these factors should be the foremost concerns when a contaminant release is discovered, the impacts the release has on a company's profits should also be considered.

Contaminant releases can lead to worker illnesses and injuries and environmental impairment. These, in turn, lead to decreased worker productivity and potential lawsuits filed by workers, neighbors, and concerned citizens. To protect human health and the environment, as well as avoid costly lawsuits, characterization of contaminant releases is crucial. From a site characterization, the appropriate remedial response, if necessary, can be determined.

Contaminant Releases: Releases of contaminants can occur from a wide variety of activities and can affect one or more media, receptors, and environments. Releases can occur into the air, soil, surface water, and groundwater. Risks associated with a contaminant release can range from minimal human health risks and environmental impacts, such as those posed by a small release from a drum in a remote, arid location, to an ongoing source of exposure to a community, such as risks associated with a contaminated groundwater aquifer tapped by municipal wells.

Environmental Regulations: The characterization and remediation of contaminant releases to the environment is governed by a variety of Federal environmental regulations, including RCRA, CERCLA or Superfund, and for federally funded projects, the National Environmental Policy Act (NEPA). In addition to Federal regulations, individual states typically adopt regulations that are equal to, or more protective than Federal regulations. Regardless of the regulatory umbrella, contaminant releases generally require an investigation to determine the extent of contamination, followed by corrective actions to remedy the release and mitigate further impairment of human health and the environment.

The ultimate goal of any site characterization and remediation program is site closure. Closure involves regulatory agency approval that appropriate actions have been taken to effectively abate the release and

that future liabilities or encumbrances related to the release have been limited.

Site Characterization and Remediation Services: Trident Environmental and their associates uses a team of professional geologists, hydrogeologists, chemists, biologists, engineers, technical support specialists, certified industrial hygienists, and other technical experts to anticipate, recognize, evaluate, and manage the characterization and remediation of environmental releases. This team provides cost-effective environmental risk characterization and management, leading to closure of the release site. Trident's site characterization and remediation professionals provide the following:
Site Characterization Planning: To ensure regulatory approval of the site characterization, a written work plan is often required by regulatory agencies. Trident creates this work plan, which outlines the methods of investigation, defines quality assurance/quality control procedures, and identifies health and safety concerns. If site-specific information is available for the site, Trident reviews and uses it to facilitate planning and sampling location identification.



Site Characterization

: The objective of site characterization is to determine the types of contaminants present, and their lateral and vertical distribution in the surrounding environment.

To do this, Trident conducts a wide range of activities, which may include geophysical surveys, soil-gas surveys, media-specific sampling, well installation and sampling, and various combinations of these technologies.



Geophysical Investigation Methods

: Because of the savings they offer, Trident employs the use of various geophysical methods such as direct-current resistivity, electromagnetic conductivity, seismic refraction, ground-penetrating radar, and borehole logging for environmental investigations.

Not only do they reduce the need for extensive drilling operations and require minimal field time, geophysical methods cover large investigation areas and provide quantitative and qualitative values for critical hydrologic and geological parameters.

They can also provide a cost-effective means of defining plume boundaries, and are useful in the proper design of remediation systems.



Health Risk Assessments

: Based on the evaluation of the nature and extent of contamination, Trident performs a health risk assessment to determine if corrective actions are warranted to protect human health and the environment.

Trident uses the results of the health risk assessment to determine if corrective actions are needed.

At many sites, a no-action alternative may be appropriate, based on the results of the health risk assessment.

In these cases, following regulatory agency acceptance of the site characterization report, the site may move directly to site closure.



Site Characterization Reports

: Trident documents all site characterization activities in a site characterization report.

This report describes the nature and extent of contamination based on investigation results, and either identifies significant data gaps requiring further investigation or provides recommendations for remedial action.



Feasibility Studies

: If the results of the site characterization and risk assessment indicate that corrective action is necessary, Trident conducts a feasibility study of potentially effective remedial technologies.

The goals of the feasibility study are to evaluate potential remedial technologies with respect to effectiveness, ease of implementation, and cost, and to select a viable alternative.

Trident also evaluates the potential cost savings that new technologies or modifications to existing technologies can offer a company.

The results of the feasibility study are presented to the lead regulatory agency with recommendations for remedial action implementation.



Remedial Design

: After a remedial alternative is selected, Trident prepares plans and specifications for remediation.

The plans include site-specific design considerations, subcontractor's selection, and bid specifications.

Trident then develops a Remedial Action Work Plan.



Remedial System Construction

: Following regulatory agency approval of the Remedial Action Work Plan, the remedial system is devised and implemented.

Trident provides construction management to ensure the remedial system is constructed to specifications and all systems are field verified prior to full-scale operation.



Remedial Operation and Maintenance

: Trident monitors remedial performance on a periodic basis to ensure a satisfactory remedial outcome.

Remedial operation and maintenance often includes

remedial system waste disposal, groundwater monitoring, and periodic performance reporting to regulatory agencies.



Closure Assistance

: Following demonstration of adequate remedial performance, Trident prepares the necessary documentation for site closure.



Litigation Support

: If necessary, Trident provides litigation support to verify proper sampling procedures, accurate data interpretation techniques, and current remedial technologies have been used to defend claims related to environmental liability.
From release reporting to health risk assessment to site characterization planning and execution to site closure, Trident has the regulatory and technical expertise to help industry achieve cost-effective regulatory compliance and expedite closure.
The environmental laws and regulations enacted over the past 25 years have sought to address obvious environmental offenses, such as illegal dumping activities and uncontrolled discharges from industrial processes. These offenses and their impacts to the quality of life are becoming acutely obvious. Less obvious are the chronic problems created by isolated incidents of negligent use and control of our environment. Leaking petroleum storage tanks (LPSTs) have been identified as one such chronic problem. While relatively inconspicuous in isolated cases, LPSTs are a potential source of tremendous cumulative impact to the environment, particularly groundwater resources. USTs contain a wide variety of substances, from carefully controlled hazardous wastes to petroleum products stored for high-volume retail sales. A single LPST may create only a local problem. However, with several million USTs across the nation, LPSTs have the potential to impact our environment on a large scale.
The possibility of such an impact has prompted environmental laws to include provisions that regulate the management of USTs. Under RCRB, EPA has broad authority to regulate a wide range of activities related to hazardous wastes or any substance that could potentially impact the environment, including USTs. The Texas Commission on Environmental Quality (TCEQ) has been given authority to regulate petroleum storage tank (PST) management, spill assessment, and remediation action associated with most industrial and retail applications in Texas. Many states, including Texas, have established financial assistance programs to aid the responsible parties in PST release assessment and cleanup problems. A detailed understanding of TCEQ regulatory compliance guidelines is critical to ensure maximum reimbursement under 30 TAC Chapter 334.
PST Management Issues: The concerns and issues facing PST owners and operators range from compliance with specific regulatory requirements and associated legal liabilities, to intangible issues such as public relations and corporate image. Some of these issues can be addressed in a straightforward manner, while others require the development of strategies based on state-of-the-art expertise combined with extensive PST project experience.
UST Regulations

: Hydrocarbons leaking from PSTs have been recognized as one of the most widespread and serious threats to groundwater quality in the United States.

Recognizing the seriousness of this problem, Congress and EPA acted by passing the UST provisions of the 1984 Hazardous and Solid Waste Amendments (HSWA) under Subtitle C of RCRA.

Pursuant to these amendments, the EPA developed regulations that place a significant regulatory burden on owners and operators of underground PSTs.



Trident Environmental has firsthand knowledge on how best to assist our clients in navigating the complex regulatory maze created by Federal UST and state PST requirements.

Many of our staff have been employed by regulatory agencies or the regulated community, and our regulatory acumen, reputation for quality, and commitment to cost-effective environmental services make Trident the ideal partner to help handle the regulatory challenges that come with PST ownership.



Financial Liability: While the potential fines relating to improper operation of a PST can be staggering, the financial risks from long-term noncompliance that result in a release are much larger. Regulations have one intent - protect human health and the environment. The regulatory requirements are meant to assure there are no uncontrolled or undetected releases from PST systems. When a release does occur, financial liability to the PST owner and operator can skyrocket.



Trident can help limit financial liability by providing prompt release response and site characterization. Our expert knowledge of the regulations, coupled with timely and appropriate response actions can be used to demonstrate good faith efforts in release response. Some states reward regulatory compliance in the initial response action by providing financial assistance programs for the remediation of PST sites. The primary eligibility requirement is that the owner has a demonstrated history of "good faith" in complying with the applicable regulations. Trident is qualified to assist in maintaining eligibility and obtaining financial assistance.



Corporate Image: UST management may appear to be only an operational concern, even with the obvious serious financial risks. However, there are intangible corporate costs associated with poor management of USTs. The publicity that surrounds a release can impair corporate image. The best protection is to ensure that no releases occur and regulations are met. Demonstrating a proactive attitude starts with a commitment to keeping up-to-date on regulatory requirements and knowing how to meet and exceed them. Trident has extensive knowledge to address PST management issues and define and solve problems as they become evident. In situations requiring access to third-party property, Trident's experience with public information campaigns, including CERCLA (Superfund) sites, also proves useful.
PST Management Services: PST management encompasses many technical issues, including compliance with Federal and state regulations, upgrading of PST systems, response to tank releases, removal of leaking PSTs, investigation of contaminant migration from tank releases, and corrective actions to remedy environmental damage caused by tank releases. A comprehensive approach to PST management ensures protection of human health and safety and the environment. Trident provides comprehensive PST management services, including the following:
Compliance Assessments: A compliance assessment determines if a PST owner/operator is meeting the requirements of Federal or state regulations. For owners and operators who have never addressed PST management, this may require a comprehensive effort to identify system configuration, historical use of the system, and current methods of operation. For owners and operators with existing systems, a compliance assessment may be used to determine if additional measures can be employed to increase protection of the environment at reasonable cost.

Compliance assessments are also advantageous if a release has occurred and the owner/operator is working toward site characterization and remediation. An assessment will determine if the characterization/remediation approach complies with regulatory requirements. The assessment will also identify and correct deficiencies when regulatory agencies are not satisfied with actions that have been implemented. Compliance assessments can also prove useful for maintaining eligibility for state-sponsored financial assistance programs.



Tank System Removal: In some cases, it may be desired or required to remove an existing tank system. While this may seem like a simple solution to PST problems, there are several regulatory requirements that must be met to remove a PST. Trident offers pre-removal screening as a means of evaluating the likelihood that a significant release has occurred prior to tank excavation and removal. With pre-removal screening, the client can use the results to evaluate the best PST removal strategies available.



During the closure of older tanks, it is not uncommon to find evidence of historic and/or current releases of product. The cost and inconvenience associated with the closure of a tank where such a release has occurred is directly affected by the experience and skill of the firm performing the closure action. Texas- and New Mexico-certified project managers at Trident work closely with regulatory authorities, to investigate the extent of contamination, negotiate closure requirements, and move smoothly into a cost-effective cleanup action.

Finally, a tank closure report must be prepared for submittal to the regulating agency to document all removal activities. While tank removal may appear to be a simple process, there are many details that must be addressed in the tank closure report, including verification of the condition of the underground PST upon removal, the methodology used for collecting soil samples and the results of the analyses. With our project-proven expertise, Trident can assist the client in addressing these details.



Release Response: If a release is detected, regulations require specific notification and immediate cleanup and abatement measures. Appropriate regulatory agencies must also be notified of a suspected release. In response to a release, initial abatement requirements may include notifying local fire authorities and preventing further releases. Trident is familiar with release reporting and notification requirements and can assist with maintaining regulatory compliance during the initial crisis of release identification.



Following release identification, any remaining product must be removed from the system to prevent further releases. Once releases are positively halted, abatement of contaminant migration is begun. Threats of vapor accumulation under buildings or in utility corridors and product migration to area drinking water supplies must be identified and, if present, promptly addressed. If area water supplies (e.g., private wells) are impacted, alternate water sources must be supplied.



Vapor migration and accumulation must be investigated during the early stages of leak response to ensure site health and safety, and as a prelude to mitigating potential fire and explosion hazards. In the event that dangerous vapor levels are discovered, Trident can coordinate abatement measures, including venting of structures and other fire suppression techniques.



Site Characterization: A remedial investigation may be required if contamination from a release is found to be extensive. This may include a geologic investigation of soils in the area of the release, and a hydrogeologic investigation in the event that water sources have been impacted. Site characterization serves to establish the contaminant concentrations and extent in impacted soils and groundwater. The information not only quantitatively defines the nature and extent of the contamination, but also provides information vital to the design of effective remedial systems.

In Texas, the TCEQ has developed a specific step-by-step procedure to direct a release site from leak discovery to remedial action and closure. Each phase includes notification and approval guidelines that must be followed in detail to ensure compliance and reimbursement. The procedures include such technical details as borehole and monitor well locations and installation techniques, with careful consideration given to the types of geologic formations being drilled; decontamination requirements to provide representative samples; proper handling of samples to ensure that chain-of-custody is maintained; the types of analytes tested; and measures taken to avoid exacerbating contaminant migration by the activities performed.

TCEQ-certified field supervision is required to ensure that the field investigation activities are completed according to state regulations, and sound decisions are made when unusual circumstances are encountered. Groundwater monitor wells must be installed properly and developed after installation is complete. Monitor well locations and elevations must be accurately surveyed so data collected from each well may be applied to interpolations of the distribution and movement of hydrocarbons that may have been released to the subsurface.

When sufficient data has been gathered and state guideline directives have been met, site characterization becomes dependent on the expertise and resources of the interpretive staff. This is a critical step in the characterization process because remediation or risk-based closure plans are based upon this information. Trident employs a diverse staff of scientists and engineers with project-proven experience on hundreds of PST-related sites across Texas.



Remedial Design: Regulations typically require a remediation work plan or proposal outlining the recommended method to cleanup contamination resulting from a PST release. The plan or proposal is usually subject to agency approval before implementation

.

Trident's experience in many geologic and hydrogeologic settings and our familiarity with a wide range of remedial systems allows us to complete a thorough design program within a short time frame and in a cost-effective manner. Our experience also serves each client by providing a remedial solution that will economically achieve project objectives. Our experience in working with regulatory agencies provides us with a unique understanding of what remedial approaches are most acceptable to regulators and how to present these approaches for approval.



Cost Reimbursement: Subchapter H of 30 TAC, Chapter 334 has established guidelines for the reimbursement of funds utilized for assessment, monitoring, and cleanup. Trident project managers are keenly aware of the cost and technology restrictions applied in this section of the law. At Trident, our desire is to help each client achieve maximum reimbursement without compromising the assessment and remediation goals. To that end, Trident will supply supplementary cost breakdown data sheets to aid the responsible party in the successful filing of reimbursement forms. If requested, Trident can fulfill all reimbursement application procedures.
The burden of complying with state regulations and properly managing PST systems can be tremendous. The expertise needed includes specialized knowledge of the regulations, practical knowledge of the regulations, skill in dealing with regulatory agencies, and specialized technical expertise in how to respond to the requirements of the regulations.
Trident is qualified to manage PST systems in a cost-effective manner. Our multi-disciplinary staff, wide range of project experience, specialized equipment and capabilities, flexible management style, focus on client-service, and commitment to quality are the foundation upon which our success has been built.
In addition to providing the highest quality field services on environmental projects managed internally, Trident Environmental can also provide professional field services for projects managed directly by the client or by other environmental consultant firms. Over the past few years Trident has developed a strong reputation for providing cost effective and reliable field services to exact client specifications for several natural gas gathering and environmental consultant companies who do not have a local office in the Permian Basin. Trident maintains a large selection of field service equipment that can be instantly utilized for the collection of data, maintenance of remedial systems, and oversight of heavy equipment. All of the Trident field service personnel are licensed Profession Geoscientist and are HAZWHOPER certified to ensure that the highest quality data will be safely recovered. Some of the field services provided include:
Trident Environmental is able to utilize all members of it's professional staff to achieve our clients field services goals while remaining cost competitive because it's "activity-based" rate schedule. This system is unique to the environmental consulting industry. It allows our most experienced project managers to help out with field work, remain on the cutting edge of field services technology, and provide a much higher degree of quality without penalizing our client's field work budget.